ENGLISH LANGUAGE TRAINING AT UCAC/ICY
In every organization nowadays, the demand for foreign language proficiency is on the rise. In a country like Cameroon which is officially bilingual and willing to assert the hallmark of language diversity, the ability to use both French and English languages is regarded,  as a must by professionals and equally as  a source of numerous benefits. The Catholic University of Central Africa (UCAC/ICY), in a bid to toughen up the skills of the lecturers and administrative staff organizes a foreign language learning program. The first edition runs from March to June 2017. The subsequent edition is scheduled as from next October.
The participants who answered the call to register sat for a Placement Test on March 20th and on March 22nd. The levels identified and their distribution were as follows
| | | |
| --- | --- | --- |
| Levels | C.EU language framework | Percentages |
| Intermediate 1 | B2 | 47,37% |
| Intermediate 2 | B1 | 7,89% |
| Starter 1 | A1 | 36,32% |
| Starter 2 | A2 | 8,42% |
| Total |   | 100% |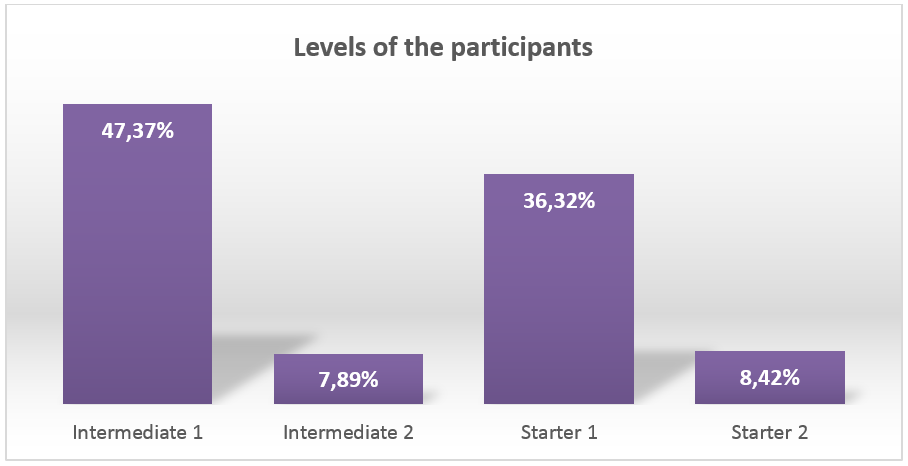 Four levels were clearly identified ranging from starters1 to intermediate 2 which gives a clear vision of the goals to achieve. The facts also correlate with the expectations expressed by the participants to keep improving until they arrive at the Expert level.
Two level groups have been formed namely the Starters and the Intermediates. The latter have two working sessions (on Mondays and Thursdays) whereas, the former only meet once (on Wednesdays). The groups were fused to match the main trend that was observed in spite of minute discrepancies
Classes are held on Mondays, Wednesdays and Thursdays from 12:15 p.m. to 13:45p.m. In order to fully immerse the participants courses are entirely carried out in English. That means teacher and learner teacher interaction is done in English. The objective is to help participants to focus on the function of the message and gather from the form the constituents which build up the paradigm presented to them. In terms of learning styles this is known as field independence. (BROWN, 2000) , defines Field independence (FI) as the ability to perceive a particular relevant item or a factor in a "field" of distracting items. He goes further saying that "…field may be perceptual, or it may be more abstract and refer to set of thought of ideas or feelings from which your task is to perceive specific relevant subset."
An emphasis is laid on oral communication and particularly on the prosody of English language. (ROACH, 2000), serves as a phonology guide to help participants acquire the basic tools in pronunciation. The mastery of weak forms is one of the key sectors where improvement is demanded. The topics discussed are in line with the knowledge of British and American institution in the broadest sense (ARQUIE & al, 1997)
The language learning program follows the Common European language Framework in terms reference common levels of language proficiency, language learning and teaching and language assessment.
A Certificate of attendance will be issued to participants upon completion of the program.
BIBLIOGRAPHY
ARQUIE, M. J., & & al. (1997). A Glossary of British and American Institutions Politics, Economics, Education, Culture, Social Services. Paris: Armand Colin.
BROWN, H. D. (2000). PRINCIPLES OF LANGUAGE LEARNING AND TEACHING. New York: Pearson Education Company.
COMMON EUROPEAN FRAMEWORK OF REFERENCE FOR LANGUAGES: LEARNING, TEACHING, ASESSMENT . (s.d.).
ROACH, P. (2000). English Phonetics and Phonology Third Edition, a practical course. Cambridge: CUP.